You already know what I have to do……
It's not May until you see the GIF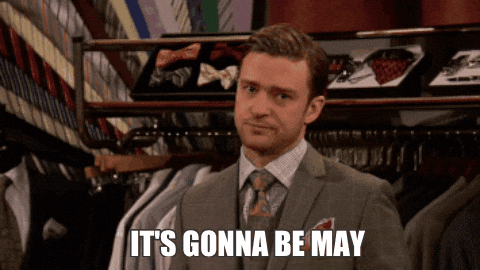 HAHAHAHA! Sorry, I'm cracking myself up here writing this blog cause I just had to do it!!!
Yes, we are here in May and let me tell you, May is my FAVORITE month! Why you ask?
Because, not only is it Mother's Day this month, but it's my Birthday as well!!!
Yes, so I am all about this month, and you know what, I got a feeling that this month is going to be EPIC! Don't know why, but I do!!!!
So excited to get my goals out on paper and to share with you a few of my goals for the month! It's a busy month again of travel( luckily, not 16 days worth!!), and 6 weddings this month!! Wedding season is HERE!!!!!! So, keeping track of my goals and what I want to accomplish this month will be a big key to my success!!!
Here are my goals for May 2019:
Personal:
Prep for Jasmine's 6th grade graduation and school dance!
Schedule massage for my birthday!
Get Contact lenses this month
Possible hair cut?! Thinking its time for a change!
Beach days once a week!
Business:
Head to NYC to speak at Hustle and Flow workshop
Buy tickets to Bahamas for Engage Summits
6 weddings this month! Crush them all!
Start 2 opt ins!
Head to Seattle for a wedding and engagement session- I have one spot left for Seattle!
BUSY MONTH indeed! But I am ready! Do you have your goals written down for the month? If not, let's so it and make May your best month as well!